PRODUCTION PLAN
Penny Press Machine
Parts Overview

GENERAL 3D DRAWINGS
Zipped Step File
(29 MB)
COMPONENT DRAWINGS
Zipped PDF Files
(5 MB)
For any element and part no matter how important or which size, the students had to provide of the complete "Penny Press Machine" to make visibility possible before starting manufacturing. That means that every single piece and then every module had to be planned and prepared in the work groups, then combined in work lines and finally transformed into CNC-code for the milling and turning process or STEP-files used in 3D-printing. Making sure that every part and element then would in the end do its job was a huge challenge for every participant as very often work load on the pieces and modules had to be calculated in advance.
PROJECT BOOK
Diploma Dissertation
(11 MB)

The group of students from our Austrian project partner HTL St. Pölten has taken its chance and has worked on our "Penny Press Machine" as part of their final diploma. As a result, we have received a full documentary of the work process from the first sketches to all the calculations and the manufacturing of the machine. This document with more than 200 pages can be found online on our webpage free for download.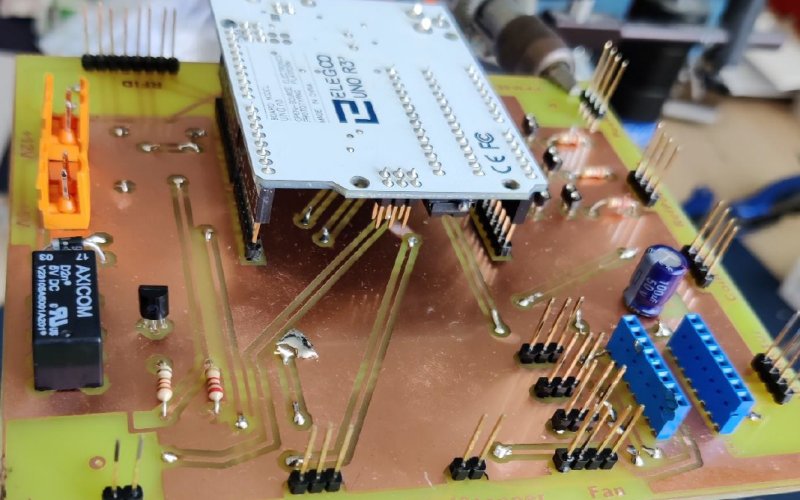 CIRCUIT CONTROLLER BOARD
Connection Scheme
CIRCUIT CONTROLLER BOARD
Low Layer
CIRCUIT CONTROLLER BOARD
Top Layer
RASPBERRY PI & ARDUINO
Programm Code
(25 MB)
The essential idea of this European cooperation was to built a "Penny Press Machine" based on mechanical engineering and the use of CNC tool machinery including engineering data management.

Within project duration, students have produced eighty different parts and pieces, thirty of them on CNC-machinery. Many of those parts needed high accuracy, exact measuring and precise manufacturing with only little tolerances. Twelve different parts were furthermore produced by using the 3D-printing with dual extruding management technology.